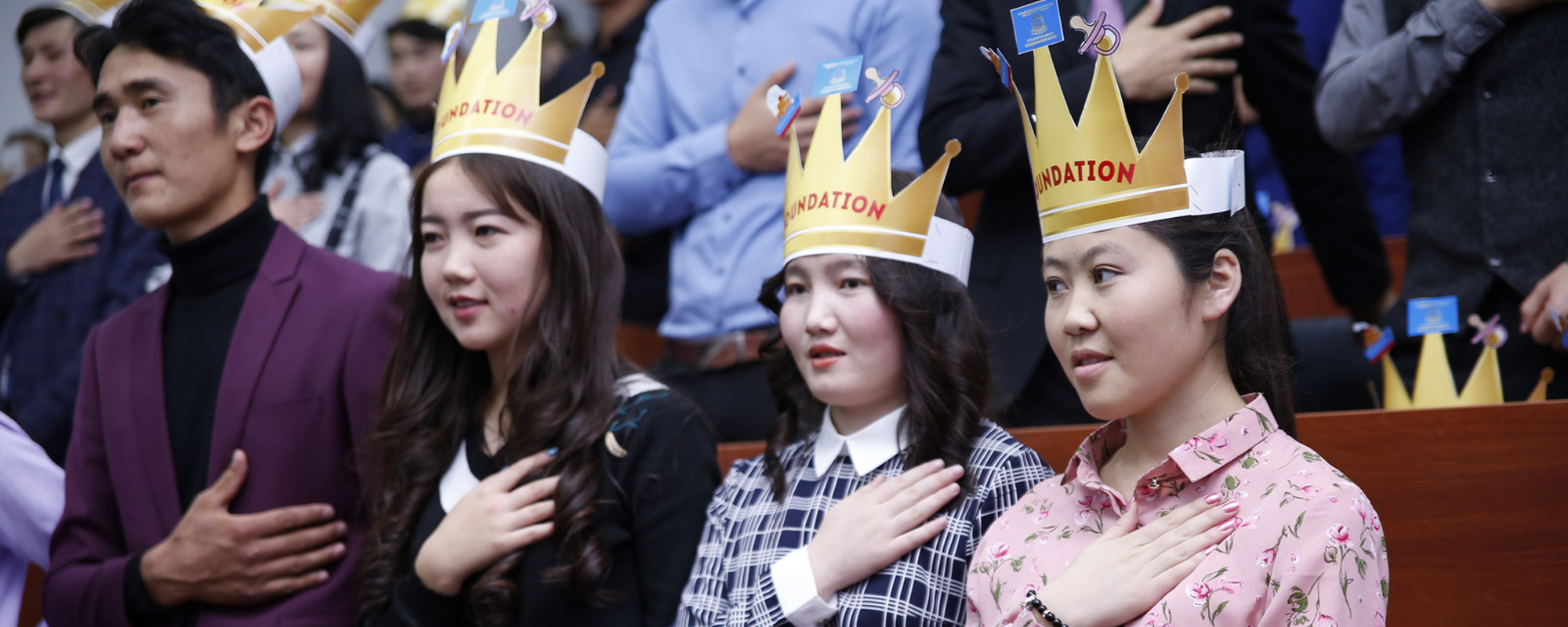 Foundation Faculty

History of the faculty
History of the Faculty
In 1960, pre-entry courses were established in order to prepare prospective students from the working class for entering the University. Later this structural unit also became responsible for the occupational guidance of prospective students.
In 2003, the Faculty of Pre-University Education and Occupational Guidance, combining pre-entry courses, occupational guidance division and specialized classes, was established.
Taking into account the main priorities of the Bologna process and with a view to creating a new educational environment meeting the modern requirements, the decision was made to establish the Foundation Faculty in March 2012.
Since October 2014, the Faculty has had a Division for Representatives of Kazakh Diaspora Living Abroad, Repatriates and Foreign Citizens (Order 383 dated September 18, 2014, the Ministry of Education and Science of the Republic of Kazakhstan).
The Dean of the Faculty is Candidate of Pedagogic Science, Professor of PSU Saule Kamalidenovna Ksembayeva.
The main fields of the Faculty activities:
1. In-depth training of prospective students attending the pre-entry courses for subsequent admission to higher education institutions inlcuding:
- training in CTA (Complext Testing of Applicants) subjects - (Mathematical Literacy, Reading Literacy, Kazakhstan History, vocation-related subjects);
- advanced multilingual training opens up great prospects for future academic mobility.
2. Division for Representatives of Kazakh Diaspora Living Abroad, Repatriates and Foreign Citizens
The main objective of this division is to ensure adaptation of foreign citizens to life and studies in Kazakhstan, prepare them for entering universities in the Republic of Kazakhstan, and provide in-depth training in the Kazakh and Russian languages.
As of today, there are 80 students. All of them are holders of state educational grants and receive scholarships.
3. Additional educational services:
- pre-entry courses for UNT and CTA (evening, distance, intensive courses) where knowledge obtained at schools are supplemented to fill the existing gaps;
- specialized classes for grade 10 and 11 students from secondary schools where students get basic training in major subjects and in-depth training in one the following specializations: auto mechanic, engineering graphics operator, draftsman, accountant-economist, administrative assistant with the knowledge of the English language, and food technologist. After passing the final certification, students receive certificates confirming their qualification:
- a vehicle mechanic;
- an oil and gas storage tank operator;
- an oil and gas equipment mechanic;
- a designer;
- a graphics operator;
- a drafter;
- an accountant-economist;
- an executive assistant with English language skills;
- a food technologist;
- a chemical laboratory assistant.
Upon completion of training, having successfully passed final qualification examinations, students are awarded a certificate of qualification attained.
Faculty contact information
Foundation Faculty
Pavlodar, 64 Lomov, room А-111
673-650 (ext. 1104)
Dean of the Faculty
8 (7182) 673-650 (interoffice 1104)